Please find below a copy of the Year Group Information from the beginning of the year.
In Science we've been learning about animals; finding out what animals including humans need to survive. As a Year 2 tradition, we all went on a trip to Pets at Home. Each class came back to school with new pet fish to help us compare what we need to survive and what our new class pets need.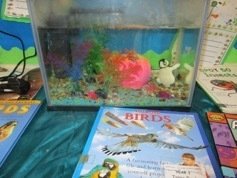 As part of our afternoon lessons, we've been learning all about The Great Fire of London. We enjoyed learning all about the event and even spent an afternoon baking and creating Tudor houses. We were even lucky enough to have a visit from a local fire-fighter who taught us all about fire safety and what it's like to be a fire-fighter. You all worked very hard on your POWer projects and there are many on display in year 2.