Please find below a copy of the Year Group Information from the beginning of the year.
We have had a very busy first term in Year 4; the days have flown by.
Our highlights have been writing stories from another culture, creating art work inspired by Arcimboldo, making wiki pages, cooking nasi goreng and learning about our digestive system.
Here we are trying to position key parts of the digestive system.
Do you know where the oesophagus is?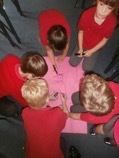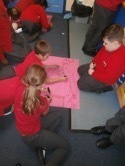 Our cooking sessions were brilliant and the year group smelt delicious. We learnt all about food hygiene then prepared and tasted this colourful dish.




Giuseppe Arcimboldo was a famous artist during the 1500s who created many fine masterpieces using fruit, vegetables, crops and flowers. We used shading to create observational drawings of exotic fruits; designed our own pencil drawings then used pastels to create our own artwork. Come and see them in our Year 4 art gallery.

4S English set have been writing their own versions of Mufaro's Beautiful Daughters. They have worked very hard to add characterisation to their speech punctuation. Here are some of their ideas.
"Nyasha, with wide eyes and arms out, whispered, "Wow, I have never seen anything so beautiful."
Hannah
Running quickly through the dense forest, Manyara called, "Out of my way you miserable, old granny!"
Thomas
The Swinging Sixties in Year 4 !

What a groovy day we had!

We started by learning about key events of the 1960's.
We also found out about popular music and fashion from that decade.
Check out our photographs, Y4dressed in our fabulous, funky outfits.
One small step for man , one giant leap for mankind'
Then we found out about the first man on the moon , Neil Armstrong in 1969.
Did you know Neil Armstrong received his flying licence at just 16 years old and this was before he had even learnt to drive
Next we learnt all about Pop Art

Andy Warhol and Roy Lichenstein were famous artists from that time.
Pop Art was bold , bright and colourful.
Look at our amazing Pop Art pictures.
Year 4 Roman Day
This term Year 4 have been studying The Romans. On Tuesday Professor McGinty came to our school and we all dressed up as Romans. We particapted in fun activities such as Roman Numeral code cracking, we made roman mosaics and even imagined what it would be like to be a roman soldier for the day.
DT and History


This term we are learning all about 'Kings and Queens' throughout history.
As part of our topic we are focussing particularly on the Tudor period.
This week, we have been having fun in DT; making Tudor biscuits using a traditional Tudor recipe.
Mrs Scaysbrook in Year 2, even tried our biscuits and she said that, 'They have a new and interesting texture '

This is what some of the children in year 4 thought about our activity :
''I think it was really fun and I like the messy bit when we put our hands into the mixture, '' Jai Gogna
' I enjoyed it, I liked it when we crumbled the bread, '' Chloe Jones.
'I liked spreading the honey all over the bowl; I think it's going to taste delicious !' Caitlin Dodds
'I definitely learnt how to make dough because I wasn't good at it before, '' Mason Hollyoake