School Bank
Year 5 pupils were invited to apply for positions at our HSBC school bank. The successful applicants were then interviewed by the bank.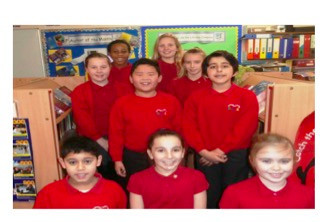 Meet the Team
Manager - Rebecca

Team A

Assistant manager - Eshaan
Record Keeper - Darcie
Cashier - Jack
Marketing - Jessica

Team B

Assistant manager - Zahira
Record Keeper - Lydia
Cashier -Hurkeerat
Marketing - Shannon

New Customers
Application forms are available from Mrs Gale in 5G. Please ask your parents to fill out the form and sign the correct boxes. Then bring your application to Mrs Gale along with at least a £1 deposit either before or on launch day. You will need to visit the bank on Thursday 2nd March at lunch time to officially open your account. You will receive a safe to continue your saving at home
The bank will open on Thursday 2nd March at 12.00. (Details of future bank opening times will be on our Bank notice board in school)
Existing customers
Bring your bank book and deposit to Mrs Gale on the morning of Thursday 2nd March. You will then need to attend bank between 12 and 1 in order to make your deposit.
Any questions please feel free to ask Mrs Gale or one of the school bank team.
School Council and Groups
At New Oscott, we offer different opportunities for the children to get involved with 'councils' and groups to enable the children to develop their understanding of different roles and responsibilities. Within each role, the children develop an understanding of effective communication and responsibilities relating to different roles.
School Council
The School Council consists of one representative from each class from Year 1 to Year 6. Mrs Gale, Mrs Strachan and Mrs McMahon support the School Council who are involved in many aspects of school life. The School Council meets regularly and discusses issues raised by children in the classes. Following the meeting, the School Councillors report back to their class on issues that were discussed and actions that will be taken to address their concerns.
The role of School Councillor lasts for one year and this allows other children in the class to be voted for by their peers.
So far this year school council have been to Banners Gate school and tried their school dinners and welcomed Banners Gate school council to try our dinners. The councillors plan to speak to the cook about what they found out. We look forward to more collaborative work with Banners Gate school council this year.
School council have also organised and ran a tombola raising money. They found out that many classes wanted more wet play equipment and are planning to spend the money so that each class receives some new equipment.
School council work closely with teachers and enjoyed the opportunity to discuss their ideas with Mrs Walklett during a 'tea with me' session.
Future Projects
Staff car wash (raise money for a charity)
Tidy cloakroom poster competition
Organise and judge a school talent show

Eco Club
New Oscott has recently developed an Eco-club. Children belonging to the Eco-Club are actively involved in identifying how to make the school more environmentally friendly. Children in this club are supported by Mrs Sale and have held competitions relating to recycling as well as supported classes with ways to become more 'green'. Thank you and well done to all the children and families for recycling their Christmas cards. The Eco-club children and a friend came along to make new decorations, gift tags and cards.
House and Sports Captains
At New Oscott, each child belongs to one of four houses. Each of our houses are named after trees and have a different colour. Your child may belong to either 'Ash' (green), Elm (blue), Oak (Red) or Willow (yellow). Staff are also part of a house and children will attend a house assembly where all of the children in their house come together to celebrate achievements and discuss events relating to their houses.
At the start of Year 6, pupils may offer themselves as House Captain. The children who wish to apply for this role have to stand up in front of their peers and explain why they feel they would be a good House Captain for their house. As the school is very large, it is often necessary for the House Captains to be in two places at once (such as Junior and Infant assemblies), therefore two Vice Captains are also selected.
To name a few activities, the House and Vice Captains are involved in delivering assemblies for their house, providing help for visitors (including parents' evening) and of course sharing weekly house point results with the school.
In addition, we also select two Sports Captains and two Vice Sports Captains for each House. Sports and Vice Sports Captains help Mr Cleverley to organise and run inter-house sporting competitions and Sports Day and also help to organise lunchtime clubs for younger pupils.