Please find below a copy of the Year Group Information from the beginning of the year.
This term has been all about Romans, Electricity and The Firework Maker's Daughter.
4S performed superbly in their class assembly and told the story of how the Romans defeated the Celts and of course one of their mightiest leaders Boudicca.

We have really enjoyed investigating circuits this term and had some real 'light bulb' moments!

One of our favourite lessons was asking our own question about insulators and conductors then investigating it. We also made our own switches.

During English, we have read the Firework Maker's Daughter by Phillip Pullman.

From this text we have been able to imagine and describe lake gods or goddesses, write a diary entry of Lila's struggle up Mount Merapi and create explanation texts about volcanoes.
Here are some volcanoes we made.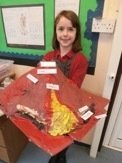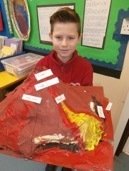 Year 4 have made an impressive start to the new academic year. All the Year 4 staff have been impressed with the children's handwriting, participation in lessons and how tidy they are keeping their new lockers!
In English, we are all enjoying reading Mufaro's Beautiful Daughters. We have been writing detailed setting descriptions using interesting vocabulary and expanded noun phrases. 4S English set have also been practising their speech punctuation. Here they are acting out part of the story before writing their dialogue.
Art has been enjoyed by all of us in Year 4 and we have some very arty children. We have been re-creating work by Guiseppe Arcimboldo. He was a well known artist whose portraits were made by painting nature and food. Come and see our art work.
In Science, we have been learning about digestion. Here we are locating the organs involved in digestion. We also set up an investigation to find out the effect of cola, orange juice and water on teeth enamel. We were really surprised to see the damage that the acid in the orange juice caused.
As part of our 'Food around the World' topic we have also enjoyed a cooking session. We prepared and chopped vegetables and fried them with rice to make an Indonesian dish Nasi Goreng. It was delicious!