It's the second week of 'The Big Pedal' competition. Are you coming to school on your bike or scooter?!
Welcome to New Oscott Primary School
Here at New Oscott Primary we strive to put our children first. We are really proud to be highly regarded within our local community as a caring and high achieving school, which is very firmly committed to providing the very richest, high quality curriculum for all our pupils. One of the distinctive characteristics of our school is the friendly, supportive atmosphere in which everyone feels valued and secure.
We are proud to be a caring school where the well-being and development of every individual is of paramount importance. We are passionate about learning and aim for every child to have a happy and active primary education. Our enthusiastic and dedicated staff provide a well planned and challenging education of a high standard within a stimulating and supportive environment in which all children are encouraged to reach their full potential. We treat all our pupils individually, developing their sense of worth and confidence and encourage unique talents to flourish in every child.
Education is a partnership between home and school and we place a great deal of emphasis on our partnership with parents. We believe that children learn best when home and school work together for their benefit.
We hope that you will find this website useful and that it will give you a feel for the school as well as providing important information. Please do not hesitate to contact us if you have any queries or if you would like to arrange a visit. We look forward to hearing from you.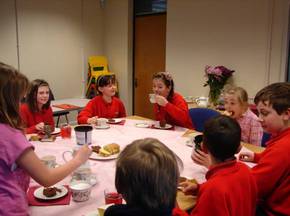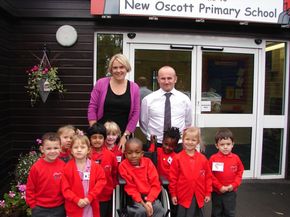 Latest School Events
Parent Information Session

12

Mar

2014

07:00 PM - 08:00 PM

Junior Parents learn about the teaching of Spelling Grammar and Punctuation.

Y5 Puberty lessons

13

Mar

2014

Parent Voice Meeting

13

Mar

2014

09:00 AM - 10:00 AM

The next 'Parent Voice' will be held on Thursday 13th March at 9.00 a.m. in the Meeting Room in school. All parents are invited to come along for a cup of tea and an opportunity to share ideas about our school or raise any questions you may have. Sue Bristow and Dawn Rayson, two of our Parent Governors, will lead the session. 'Parent Voice' usually lasts for about one hour but parents are welcome to come even if you can only stay for part of the time.

3B Class assembly

14

Mar

2014

09:00 AM - 09:30 AM

Inter House Cross Country Run

20

Mar

2014

@ School Field

Inter-House Cross Country Run/Sport Relief Our annual inter-house run will take place on Thursday 20th March on the school field. Years 3 & 4 at 10.00 a.m., followed by Years 5 & 6 at 11.00 a.m. Boys and girls run separately. Parents are very welcome to come and support.
Calendars page(s):
School >>