Phonics
The journey to independent reading and writing begins with phonics.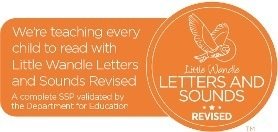 At New Oscott Primary, we teach Phonics through a scheme called Little Wandle Letters and Sounds Revised. This is a complete systematic synthetic phonics programme (SSP) developed for schools by schools. It is based on the original Letters and Sounds, but has been extensively revised to provide a complete teaching programme which meets all the expectations of the National Curriculum.
The programme is designed to teach children to read from Reception to Year 2, using the skill of decoding and blending sounds together to form words. The Little Wandle programme provides a full progression through all commonly occurring GPCs (sounds), working from simple to more complex, and taking into account the frequency of their occurrence in the most commonly encountered words.
Please click the links below to find out more about Little Wandle Phonics at New Oscott Primary School.
Documents to support learning at home: